Test Positive for COVID-19?

Did you Test Positive for Covid?
Prompt response to inquiries; pleasant correspondence, and efficient service. Highly recommend.
Get your Paxlovid Prescription Today
If you tested positive within the last 5 days and meet the qualifying conditions, book a consultation with our specialized team and get your Paxlovid prescription today. Our simple process allows you to quickly and easily get a Paxlovid prescription right from the comfort of your own home.


Paxlovid is an oral antiviral pill for COVID-19 patients who are exhibiting mild to moderate symptoms.
It can be taken at home to help prevent high-risk patients from becoming severely ill to the point of hospitalization. Paxlovid was granted an EUA (emergency use authorization) and received FDA approval in December of last year. It was approved by Health Canada on January 17th of 2022.

It has been classified as an investigational medicine, and is intended for adults and children (12 years of age and older) who meet the prescription criteria.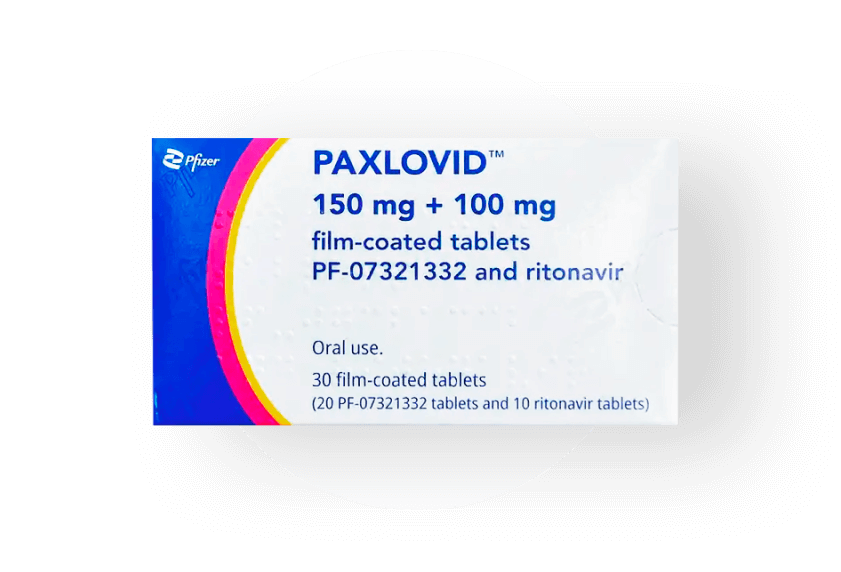 Paxlovid consists of two different antiviral medications: nirmatrelvir and ritonavir.
They work in tandem to stop the COVID-19 virus from replicating, and in turn help to counteract the progression of symptoms in an individual who has been infected. More specifically, they are protease inhibitors. Protease inhibitors have been used in a variety of industries to inhibit virus replication in the body by blocking the enzyme that facilitates the replication process.
Paxlovid's antiviral components (protease inhibitors) effectively prevent the coronavirus from completing its lifecycle and continuing to spread.
Paxlovid is provided in pill form, and doses are taken orally. One dose consists of two nirmatrelvir tablets and one ritonavir tablet, co-administrated twice daily for 5 consecutive days.
Antiviral medicines are most effective when taken as early as possible in the course of an illness.
Paxlovid MUST be taken within five days of symptom onset.
Take your second dose approximately 12 hours after. It is recommended you schedule your daily doses so they are easy to remember, for example, morning and evening.
Take all three tablets (2 nirmatrelvir & 1 ritonavir) at the same time, or in immediate succession.
Tablets should be taken whole – not chewed, broken or crushed.
Be sure to complete the entire 5-day Paxlovid treatment regimen. Do not stop taking Paxlovid if your symptoms subside before the prescription has been finished as this can cause viral rebound and resistance to Paxlovid.
Consult with your healthcare provider immediately if any issues arise.

"Superior customer service!"
Prompt response to inquiries; pleasant correspondence, and efficient service. Highly recommend.

Very happy with our dealings with this company.

"Customer service is excellent"
I have had very good experiences with this company. Very pleased to be able to access COVID test kits for kids

"Recommend this company to anyone"
Responded to my email promptly and professionally and answered all of my questions

The employees that I dealt with were exemplary.

"Very professional and promptly done"
I appreciate the quick customer service responses.

"Prompt, easy to work with"
I wish other on-line businesses were as good as these folks.

"The process was fast and simple"
My nurse was kind, patient, and understanding.

"Booking a test was extremely easy"
The customer service online was quick, polite, accurate, and very helpful.

Very easy to book and fast delivery. Will certainly recommend to friends.