The QuickVue At-Home OTC COVID-19 Test lets you get rapid results, in the privacy of your own home and is intended for the qualitative detection of the nucleocapsid proteins from SARS-CoV-2 from individuals with or without symptoms or other epidemiological reasons to suspect COVID-19 when tested twice over two or three days with at least 24 hours and no more than 36 hours between tests
COVID-19 Serial testing is when one person tests themselves multiple times for COVID-19 on a routine basis, such as every day or every other day. By testing more frequently, you may detect COVID-19 more quickly and reduce spread of infection.

Based on the interim results of a clinical study where the QuickVue At-Home OTC COVID-19 Test was compared to an FDA authorized molecular SARS-CoV-2 test, QuickVue At-Home OTC COVID-19 Test correctly identified 83.5% of positive specimens and 99.2% of negative specimens.

The test is intended to be read at 10 minutes.
The Quickvue At-home Otc COVID-19 Test is manufactured in the USA by Quidel Corporation and was approved by Health Canada on August 26, 2021.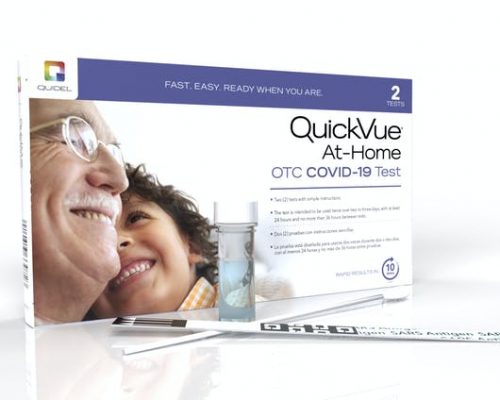 Buy the Quickvue At-home Otc COVID-19 Test for Your WorkPlace