The Sofia 2 Flu + SARS Antigen Fluorescent Immunoassay (FIA) uses advanced immunofluorescence-based lateral flow technology in a sandwich design for qualitative detection of nucleocapsid protein from influenza A and influenza B, and SARS-CoV-2. The Sofia 2 Flu + SARS Antigen FIA with the Sofia 2 analyzer provides automated and objective results in 15 minutes, allowing for testing of patients suspected of influenza A, influenza B, and COVID-19/2019-nCoV at the Point of Care.
Results in 15 minutes

Easy to use

Fluorescent technology with automated read

All necessary components included in kit

Self-contained Test Cassette
Sofia 2 Flu + SARS Antigen Fia is manufactured in the United States by Quidel Corporation and was approved by Health Canada on July 23, 2021.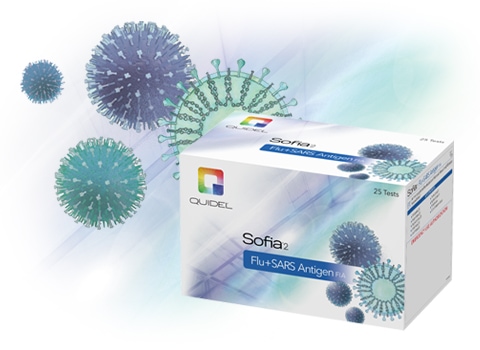 Buy Sofia 2 Flu + SARS Antigen Fia for Your WorkPlace