Test and Trace is a classic public health strategy for containing viral diseases such as COVID-19. It involves a process known as contact tracing in which health authorities work with infected patients to pinpoint people who have been exposed to the virus. Through this process, those identified as contacts of infected people are then tested for the disease and isolated if sick.
The goal: reduce the rate of transmission of the virus to curb its spread within a given population.
Test and Trace is broadly viewed as the preferred strategy for crushing the novel coronavirus. Since the onset of the COVID-19 pandemic in early 2020, however, conditions in the United States have deteriorated to the point that local and state governments cannot implement traditional Test and Trace programs.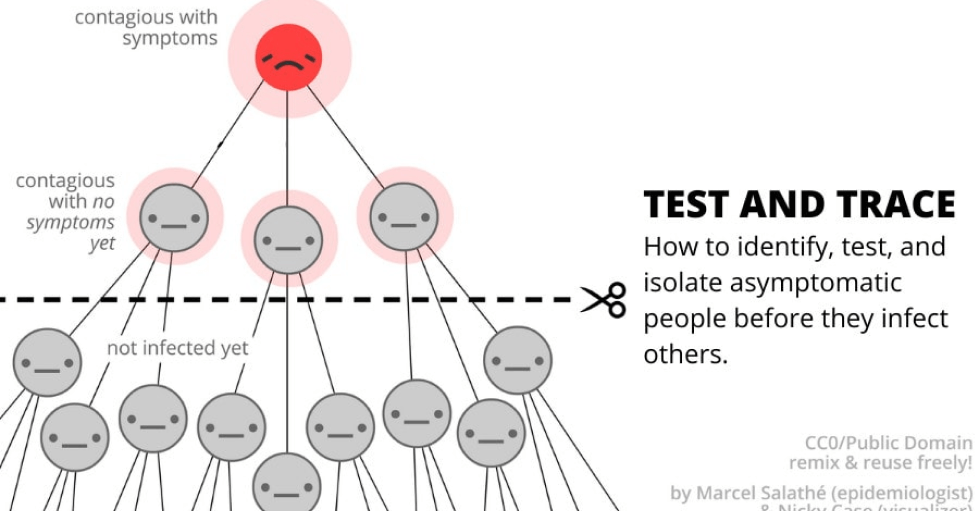 Challenges for Test and Trace in U.S.
Policy objectives such as reopening the economy and sending students back to school will remain out of reach so long as these obstacles to deploying robust Test and Trace initiatives remain:
Inadequate testing capacity
Although the U.S. has ramped up the availability of COVID-19 tests since the beginning of the pandemic, the number of daily tests administered across the country remains well below thresholds generally recommended by health experts.
Delays in processing tests
The longer it takes to determine if people have the coronavirus, the greater the likelihood of infected contacts unknowingly exposing others to the virus.
Early efforts to stop the spread of the coronavirus in the U.S. have made it clear that delays in processing the results of COVID-19 tests represent one of the chief threats to effective contact tracing. The continuous backlog of tests awaiting processing has pushed reported turnaround times beyond actionable windows for identifying contacts.
Limitations on rapid testing
Rapid testing using low-sensitivity antigen tests can effectively screen for COVID-19. However, low-cost rapid tests that can be easily manufactured lack FDA approval, limiting their use as a strategy for curbing the spread of the coronavirus.
Efficiency of contact tracing
State and local governments are using disparate guidelines to scale up programs for contact tracing. As a result, contact tracers possess varying levels of professionalism, experience, training and attention to their work.
Technological solutions
Effective COVID-19 strategies in countries such as South Korea and Taiwan have leveraged digital contact tracing via apps. Laws and attitudes about privacy raise questions as to whether digital technologies can play such a prominent role in the U.S. response.
COVID-19 Case Study: South Korea