We have the opportunity to virtually eliminate active infections this winter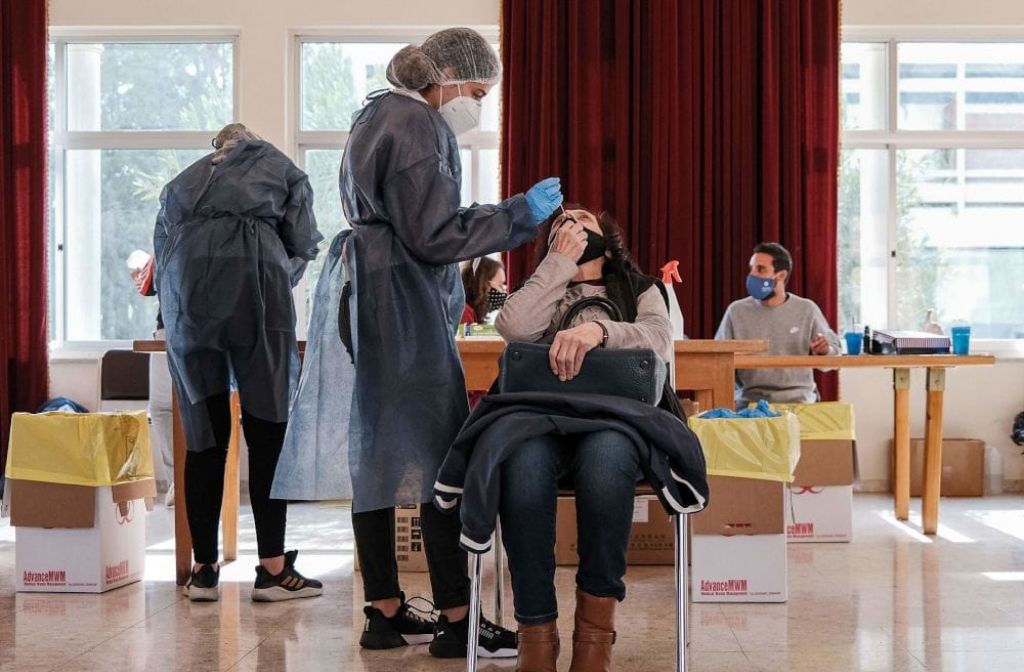 The following open letter arguing for the adoption of widespread rapid testing in Canada was signed by 28 members of the medical and business communities.
As the second wave of the pandemic continues, infection rates and hospitalizations are rising in many parts of Canada. Both lives and livelihoods are tragically being lost each day.
In a response that was previously unimaginable, many Canadians were prohibited from gathering to see friends and family over the holidays, and many businesses are again forced to close in an effort to stop the spread of the virus. In Quebec, a curfew has been put in place for the first time and Ontario has now implemented an unprecedented general stay-at-home order.
While vaccinations have begun, we remain many months away from the majority of Canadians being immunized. As we wait, more lives are being lost, more livelihoods are being destroyed and the mountain of new debt — for individuals, businesses and governments — continues to grow.
With countries like Australia, South Korea and others managing to control COVID-19, Canadians must ask themselves how much longer our patchwork approach is sustainable.
In this crisis, rapid testing and contact tracing is a key public health tool that other nations have adopted.
This strategy involves:
using tests that deliver results in minutes to find positive cases and isolate them quickly;
testing high-risk and asymptomatic individuals;
implementing effective contact tracing to quickly identify those who may have been exposed to COVID-19, so they, too, can be rapidly tested; and
supporting a layered approach, which includes maintaining physical distancing and protective measures like masks, hand-washing and new safety protocols in stores and workplaces.
Frequent testing with antigen tests can be scaled up quickly, in order to detect contagiousness and help cut the chains of infection. Indeed, some countries have tested their entire populations in days using this approach, while others are launching campaigns to test millions daily. In contrast, Canada currently administers barely 70,000 daily PCR tests, which deliver results in days, rather than minutes.
The traditional PCR tests Canada is currently using are highly sensitive, identifying the virus before, during and after someone is transmitting it, and will remain the bedrock of medical diagnosis. They are, however, inadequate as a widespread public health tool to curb a fast-moving and prevalent virus. They are also expensive, and hence are being used sparingly. They could in fact be better utilized to confirm positive test results from rapid antigen testing programs than as the first line of defence.
A study from Harvard University provides a blueprint for how rapid testing could contribute to the suppression of COVID-19 in weeks, stating: "when it comes to public health, it's better to have a less sensitive test with results today than a more sensitive one with results tomorrow."
Our group, Rapid Test and Trace Canada, estimates that, for roughly $2 billion, Canada could quickly achieve testing levels of 200,000 people per day, while working towards testing five million people daily by April. This would allow us to virtually eliminate active infections this winter, while vaccines are being rolled out to provide long-term protection.
Nothing we are proposing is ground-breaking — it is already being done elsewhere. Further, the tests are already in Canada, approved and ready to be deployed. While some small pilots are under way, why isn't this key technology being utilized to the maximum extent possible?
Nearly a year into the pandemic, a great deal of work still needs to be done to develop a comprehensive testing strategy for seniors homes, hard-hit lower income and minority groups, Indigenous communities and even the general population.
Many Canadian businesses are now undertaking to test their employees at significant cost, stepping up to fill the need. Because governments and health services are stretched so thin, activating Canada's business community is the best way to quickly reach as many Canadians as possible with rapid tests to alleviate some of the strain on our health-care system.
In the worst crisis since the Second World War, we are fighting with one hand tied behind our backs. Deploying rapid testing on a wide scale and allowing Canadian business to assist in this effort is of critical importance as part of a layered approach to combating COVID-19.
To advance the effort, Canada needs to commit capital and resources to rapid testing and begin to approve the use of low-cost rapid at-home tests. In the near future, Canadians would be able to administer tests themselves without the barriers involved with the authorized, rapid antigen tests that require a health professional to administer them.
The urgency cannot be overstated. Widespread vaccination of our country is many months away, with worrying supply concerns, while the real harm of the virus continues to be felt every day. The widespread use of rapid testing and enhanced contact tracing can play a significant, positive role in the fight against COVID-19. Canadian governments at all levels have significant ground to make up on this front.
In this effort, we all must be part of the solution and bring all resources to bear. The faster we contain and control the virus, the faster we will be able to save lives and safely reopen our society.
Dr. Colin Furness, assistant professor, Dalla Lana School of Public Health, University of Toronto
Dr. Ashleigh Tuite, faculty member, Dalla Lana School of Public Health, University of Toronto
David Redman, former executive director of the Alberta Emergency Management Agency
Dr. Stephane Bilodeau, associate professor, University of Sherbrooke
Dr. Marc Levine, professor emeritus, pharmaceutical science, University of British Colombia and chair of the UBC Children's and Women's Research Ethics Board
Dr. Andrew Morris, medical director, Antimicrobial Stewardship Program, Sinai Health System/University Health Network and professor, faculty of medicine, University of Toronto
Dr. Victor Leung, medical director for infection prevention and control at Providence Health Care and Medical Lead for the PHC Antimicrobial Stewardship Program
Dr. Richard Lester, infectious disease physician and founder of WelTel
Dr. Mark Tyndall, faculty of medicine, School of Population and Public Health, University of British Columbia, director, UBC-BCCDC Research Institute, former executive director, BC Centre for Disease Control, former deputy provincial health officer of British Columbia
Jack Mintz, president's fellow, School of Public Policy, University of Calgary
Robert Schulz, professor of strategic management, Haskayne School of Business and Education, University of Calgary
Ken Kobly, president and CEO, Alberta Chambers of Commerce
Sheri Somerville, president and CEO, Atlantic Chamber of Commerce
Janet Riopel, president and CEO, Edmonton Chamber of Commerce
Jason Aebig, CEO, Greater Saskatoon Chamber of Commerce
Bridgitte Anderson, president and CEO, Greater Vancouver Board of Trade
Bruce Williams, CEO, Greater Victoria Chamber of Commerce
Patrick Sullivan, president and CEO, Halifax Chamber of Commerce
Keanin Loomis, president and CEO, Hamilton Chamber of Commerce
Chuck Davidson, president and CEO, Manitoba Chambers of Commerce
Renee Comeau, executive director, Northwest Territories Chamber of Commerce
Rocco Rossi, president and CEO, Ontario Chamber of Commerce
Sueling Ching, president and CEO, Ottawa Board of Trade
John Hopkins, CEO, Regina & District Chamber of Commerce
Steve McLellan, CEO, Saskatchewan Chamber of Commerce
Loren Remillard, president and CEO, the Winnipeg Chamber of Commerce
Janet De Silva, president and CEO, Toronto Region Board of Trade
Patrick Rouble, president, Yukon Chamber of Commerce
Help Protect Your Organization
If your company or organization is interested in rapid testing solutions, contact us today to learn how rapid testing and tracing can help protect your workforce.