Citizens and businesses alike are wondering where to buy rapid COVID tests in Alberta. In early March 2022, the province lifted all restrictions and shifted to the next phase of the pandemic. Now more than ever, Albertans are expected to figure out how to live with COVID on their own, while cases of the latest variant continue to rise.
The sixth wave is causing more people to test positive for COVID across the country.
People are growing tired of the lockdown cycles but also worry about the rising cases related to variants of concern (VOC). Rapid testing is an underutilized tool in Canada's defense against COVID-19. But from construction contractors in Grande Prairie to bank branches in Calgary, businesses are looking to change that.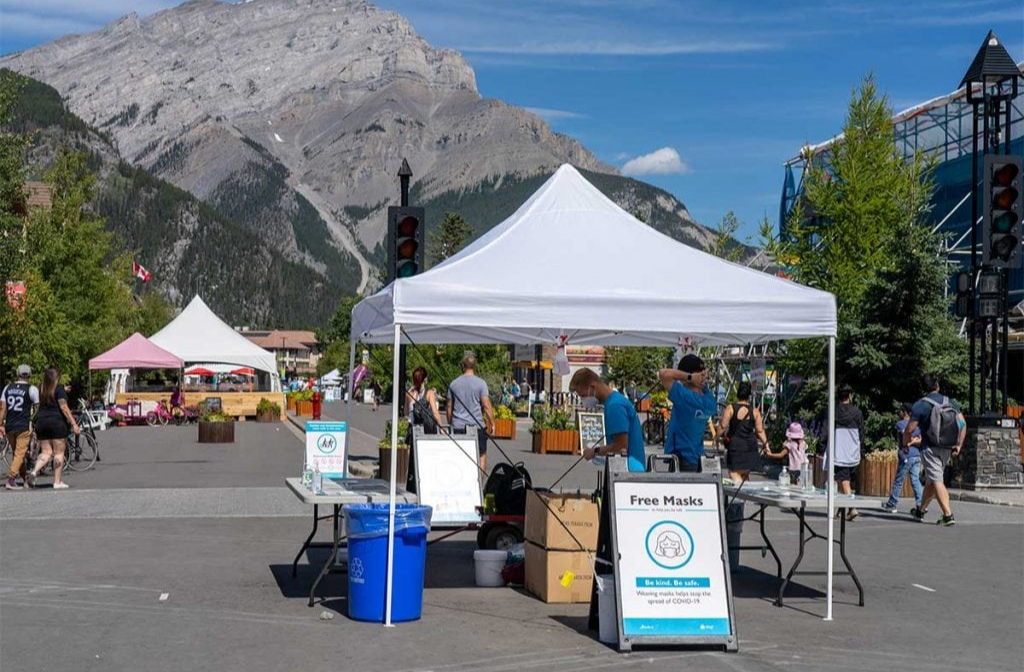 Are Rapid COVID Tests Approved in Alberta?
The Government of Alberta is embracing rapid test kits as part of its pandemic response plan. Health Minister Tyler Shandro announced in February 2021 that long-term care facilities would begin using rapid antigen tests.
Since then, screening programs using rapid COVID-19 tests have popped up throughout the province. Banff considered a municipality-wide pilot project that was supported by Alberta Health Services.
The public health agency is only offering PCR tests to symptomatic people. To fill the gap, employers and service providers are using rapid antigen tests for asymptomatic testing. When participants test positive with a rapid test, they are instructed to immediately get a confirmatory PCR test.
Rapid Tests to Protect Your Workplace
Workplace rapid testing programs are an effective way to screen staff and derisk your business from the spread of COVID-19. In addition to daily questionnaires and temperature checks, companies test staff twice per week with a rapid antigen test.
Advantages of Rapid Tests
There are many advantages to using rapid antigen tests in the workplace.
It allows asymptomatic people to get regularly tested
Costs are much lower than the standard PCR test
Test results are available in under 20 minutes
Tests can be administered by trained staff
Most importantly, it enables businesses to identify infectious people before the virus spreads through the workplace.
How to Use a Rapid COVID Test
Learn how to take a rapid covid test and read the results with these step-by-step instructions on how to use rapid antigen tests for COVID-19.
Where to Buy Rapid COVID Tests in Alberta
Canada has been slower than other countries in adopting mass rapid testing. In some parts of the US, for example, you can buy rapid tests in vending machines. In Alberta, you will need to buy your rapid test kits through a reseller, like Rapid Test & Trace Canada.
The companies below are listed on the Alberta Health website as providing services related to rapid testing.
Aarde Underground Inc
Aaron Paramedical Services
Aceso Medical
Alberta Paramedical Services Ltd
BHARADIA PHARM INC. / Shoppers Drug Mart #2388
Calian Ltd.
CareRx Compounding Edmonton
Central Point Pharmacy
Corporate Medical Group
DriverCheck
Equity Health Services
Guardian Pharmacy Tofield
HSE Integrated Ltd. (HSE)
Industrial Paramedic Services (IPS)
Medika North Inc.
NuAid Pharmacy Inc
Numi Health Inc.
Nurse Next Door
Onyx Industrial Inc.
Precede Occupational Health Services
Tawa Pharmasave
The Medicine Shoppe #387
The Medicine Shoppe Pharmacy #328
The Medicine Shoppe Pharmacy #365
The Medicine Shoppe Pharmacy #383
Rapid Antigen Tests Authorized by Health Canada
Buy Rapid Tests for Your Workplace
Contact us today if you're looking to buy rapid tests to protect your workplace from the spread of COVID-19.